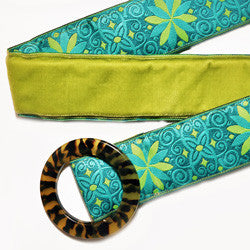 Astrid
Calling to mind Celtic floral motifs and the beauty of Scandinavia, the Astrid collection pairs woven jacquard and color-coordinated French velvet ribbons. Belts are either 1 1/2" or 2" wide, and are lined with interface to provide a substantial feel and retain shape. Round or oval buckles provide the perfect finishing touch. Reversible to give you two belts for the price of one!
5% of revenues for Astrid belts are donated to the
Museum of Fine Arts, Boston
.