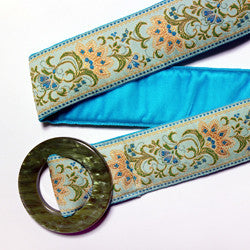 Cloisonne
Like the Near-Eastern jewelry and decorative art objects that inspired them, the Cloisonne collection features belts with beautiful intricate color patterns. 2 inch woven jacquard and French velvet ribbons surround heavyweight interface which provides a substantial feel and gives excellent shape retention. These reversible belts give you two for the price of one and are finished by a perfectly chosen round buckle.
5% of revenues for Cloisonne belts are donated to the
Isabella Stewart Gardner Museum
.