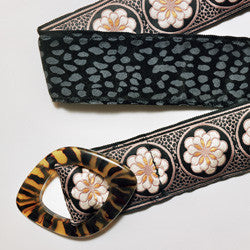 Elegans
The zinnias which adorn the Elegans collection used to be called "Cinderella Flowers". You too will be magically transformed when you wear one of these 2" wide belts. One side is woven jacquard and the other is either solid color velvet, black leopard velvet, or the same ribbon that's in the Rosette collection. Heavy interface lining helps belts retain shape, and you get two belts for the price of one since they're reversible. Perfectly paired with a distinctive square or diamond shaped buckle.
5% of revenues for Elegans belts are donated to the
Disabled American Veterans Charitable Service Trust
.