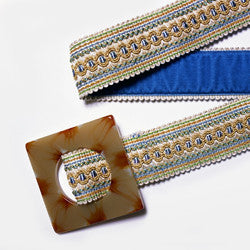 Nantucket
The Nantucket collection is our intrepretation of those simple yet elegant Nantucket Lightship baskets. The intricately woven fabric textures and color palette of these belts capture the essence of the island. These 1 1/2" belts feature detailed fabric and velvet with satin and silk threads, and we've paired them with a two-tone round or square buckle. We've included a heavy interface to retain shape. Frugal New Englanders of old would surely appreciate that you get two belts for the price of one since they're reversible.
5% of revenues from Nantucket belts B127, B128, and B129 are donated to
Woods Hole Oceanographic Institution
. 5% of revenues from Nantucket Yellow Solidarity belt (B136) are donated to
Disabled American Veterans Charitable Service Trust
.