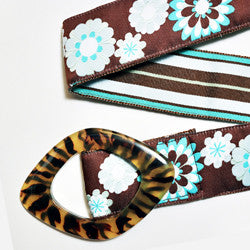 Pentimento
The style of the psychedelic era shows through in the Pentimento collection, which features 1 1/2" wide woven jacquard ribbons with a sixties floral pattern, complimented with polka dots, grosgrain stripes, linear dots, or dot circles. Heavy interface retains the belt's shape. Square, diamond, or round buckles are paired to complete the look They're also reversible, so you get two belts for the price of one. Groovy!
5% of the revenues from Pentimento belts are donated to the
National Breast Cancer Foundation
.